What's the Difference in Gendered Education?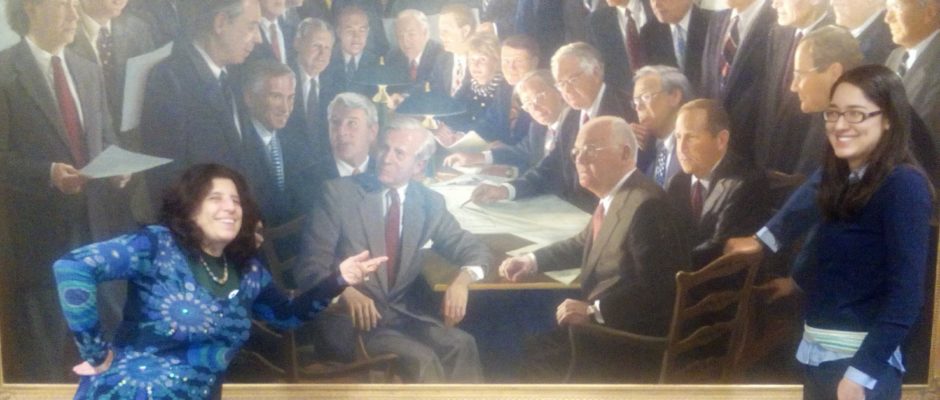 Dr. Ilise L Feitshans JD and ScM and DIR

Award Recipient MS-JD SUPERWOMEN- JD  2016
Author, Report to the Parliamentary Assembly of the Council of Europe (PACE, 47 Nations
Representing 850 million people) NANOTECHNOLOGY: BALANCING BENEFITS AND RISKS TO PUBLIC HEALTH AND THE ENVIRONMENT accepted unanimously in
Parliament www.coe.int (English, French and Russian).
Auhtor, Handbook For Parliamentarians on the Convention Preventing Counterfeit Medicines("Medicrime") Council of Europe, in English French Russian and Spanish www.coe.int
Forthcoming Chapter in the Book (Mark Hoover, NIOSH and Nathan Baker, Eds) NANOINFORMATICS: PRINCIPLES AND PRACTICES
Forthcoming Book, "GLOBAL HEALTH IMPACTS OF NANOTECHNOLOGY LAW "
Ms-JD Mentor's Corner January 2018
What's the Difference in Gendered Education?
Ironic and true: my brother now works at a very impressive private school just footsteps away from the place where we both grew up. My brother has spent all his life living in the same zip code of New York City with occasional visits to New Jersey Florida and Upstate.  Staying in the same place has earned him the right to move upwards socially towards teaching in a lofty private school near where he lives, after having taught for a very long time in public school as the Assistant Principal for the Bronx High School of Science.
As a child growing up in Riverdale, the sunny but tree-shaded affluent section of New York City that was also home to many diplomats from the UN, I passed this very same school very often on foot when I spent time at the home of Marc Fryburg, Esq who was just a little kid at the time just like us. Marc's father was the Principal of Canarsie High School (which gave a special meaning to the New York Phrase "from here to Canarsie") and his mother was the Chairman of the Department of Cognitive Learning in Manhattan College. Marc's brother, David is a doctor who graduated medical school in Yale.
So that is what I know from the outside.
From the inside of course I recall that mommy's cousin "Big Leon", (Leon Morris Levy) went there and graduated as a star varsity athlete who then went to Columbia College. Little Leon, as his cousin (Leon Ralph Levy) was called, said once that Big Leon was a Rhodes Scholar. I have the Riverdale Press articles about Big Leon and his poems, also written in Riverdale, during his time at the impressive private school.
The one memory I have of inside that school is: taking my Achievement tests before college admissions there.
The achievement test were not as auspicious for me as they should have been. I did not know what they were and I did not study for them although I placed out of elementary French for college,
Here is what matters:
There were no female students at the lofty private School when I entered its doors for the tests. It was a time before women were accepted at Columbia College, Dartmouth College or Yale. So the absence of female students at a feeder school for those colleges was no surprise.
But what is surprising is that the security guards did not know why I was there
No one had told them that girls were going to take the test and therefore would be present on the property
At first they did not believe me and insisted I could not enter to take the achievement tests because testing was going on soon and the students could not be disturbed.
I started to cry saying this is the on my admission ticket and I live down the street this is the nearest test site and I am supposed to be here and that my mom would be angry if i went home without taking the exam because she had paid for me to take the exam
But the guards did not want to let me and and my classmate, Debbie Rosenberg into the school for boys
I dont know what happened next but eventually someone came over to us and told us that we could take the test there at the school but not in a classroom
The classrooms were for the boys
We took our achievement tests in the cafeteria
History, French, English Biology
And then we went home never to enter those hallowed doors again
I have been told that now they accept female students, but I have never been back to meet one.
In the USA, in New York City, the home of sophistication, multicultural diversity and the inevitable enlightenment that such an admixture brings, schools whether public or private were separated by boys and girls. Economics divided public and private for sure, but it was gender that was the ultimately insurmountable divide when my parents and grandparents went to school there. And me too.
And so i do wonder what my life had been like if I had grown up in a time in the USA when women did not have to cry and complain to be allowed to take these college entrance exams anywhere they want and sit in a classroom like their male peers.
Yes I am jealous of those ladies who need not cry and stamp their feet in order to take an exam before college that is part of the college admissions process in the USA. But I am especially jealous of those young ladies who squander the opportunity, by refusing to take those exams and refusing to go to college, because they have no idea how hard generations of women fought to give them that right to education and the luxury of refusal today..  a right that was deprived to ladies for centuries until the seven sisters colleges were born in the USA. And of course, clueless how many women in foreign nations still do not have these same rights … today.   And yes of course, no one ever doubted that my brother would take these very same exams, no one stopped him at the entrance, in fact my parents drove him to the door rather than letting him walk there alone and, from what I recall, persuaded him to get out of the car so that he would get to the exams on time. That was of course in my very same lifetime but not in my gendered educational moment.
A moment where it was just that easy to keep women out of college by standing at the door of the entrance exams saying we don't allow girls in this building.
Not true of course that this one moment was pivotal to shaping and defining my career, but that moment is very representative of the long and destructive chain of similar gendered schooling and career moments throughout my life. In totality, the chain itself, crafted by society, was pivotal to success or failure. At each point of entry in my career the whole social context is captured in the experiential selfie from this one moment.
And yes it would have been pivotal if they had succeeded in keeping me out of the exam,
In the end it was easier to let me have my way than to fight when I complained and cried so loud.. .In hindsight, however, I was not merely loud and complaining but loud and complaining about something very important because in order to prevent a true injustice i had something to say and I had both: a right and a need to be heard!. Funny thing though, I was actually right, too
But  I was that type of kid, spoiled enough and smart enough to have that sort of personal dignity that lets one know that i had a right to complain about something i couldn't see. Many people would have just walked away and spent the time doing something so mom would not know the  money she had spent on the exams was lost,  before going home.
Perhaps someday that school will call me to give a speech about nanotechnology law or my work in the United Nations in Geneva Switzerland or my experiences teaching at Yale, and then perhaps I will meet their legendary female students who have the right to take college entrance exams inside their doors. That would be a great healing, although i will still need a pencil sharpener that was not available for the number 2 pencils for the achievement test exam because cafeterias don't need pencils.